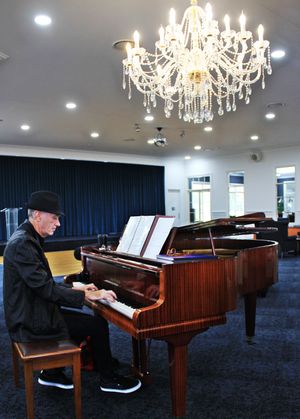 'Groove Bros' Piano - percussion - vocals
Gray Liddell & Roger Peters will entertain you with their groovy style, smooth singing, and raw live creative energy. Perfect vibe for dancing too.
Versatile is a word that well describes their performance capabilities, easily transitioning between a great mix of Pop, Rhythm & Blues, Reggae, Funk, Latin and Retro Pop Rock.
They excel in uniquely rebirthing songs - you'll hear some well-known songs like you've never heard them before.
 
Roger Peters, who hails from London, has been a local coast musician for the past 25 years. He has played with Coast bands: "Baghdad Café", "Muzika", "Black and Blue Notes" and "The Famous Jimmies" to name a few. Roger plays a variety of percussion instruments and styles. Gray and Roger are a new duo on the Coast playing together for the first time in 2023. Roger is best known for the raw energy he puts into his music coupled with great artistic sensitivity and feel.